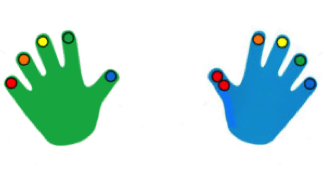 NO! is what we say to finger numbers at the beginning of lessons. (The fingerings will be added later on.) One of the pitfalls of the early stages of reading music with the position playing/fingering numbers approach is that the student learns to depend on the fingerings provided in most beginner methods. The new reader quickly learns to put his hands in the five-finger hand position and reads the numbers in order to play the notes. Once the numbers disappear, he may not know which notes to play.
MNM has substituted the printed fingerings with the MNM color-coded system and fingering hands. After the student has learned the note names, the printed fingering numbers no longer detract from learning to read the notes.  The use of fingerings happens naturally when needed. In the Composer's books, blank fingering hands are provided for the student to find the easiest fingerings for his original songs.
https://merrienan.com/wp-content/uploads/2021/06/Fingering-Hands.png
175
325
asd asdas
https://merrienan.com/wp-content/uploads/2021/06/cropped-MNMlogo.png
asd asdas
2021-09-13 01:00:30
2021-08-12 19:08:22
Finger Numbers? NO!